Animate and The Berkeley Suite presents CICI
CiCi
OPTIMISTIC SOUL
CORRAN
GERRY KEARNS
MOTUS
£7 / £10
11pm - 5am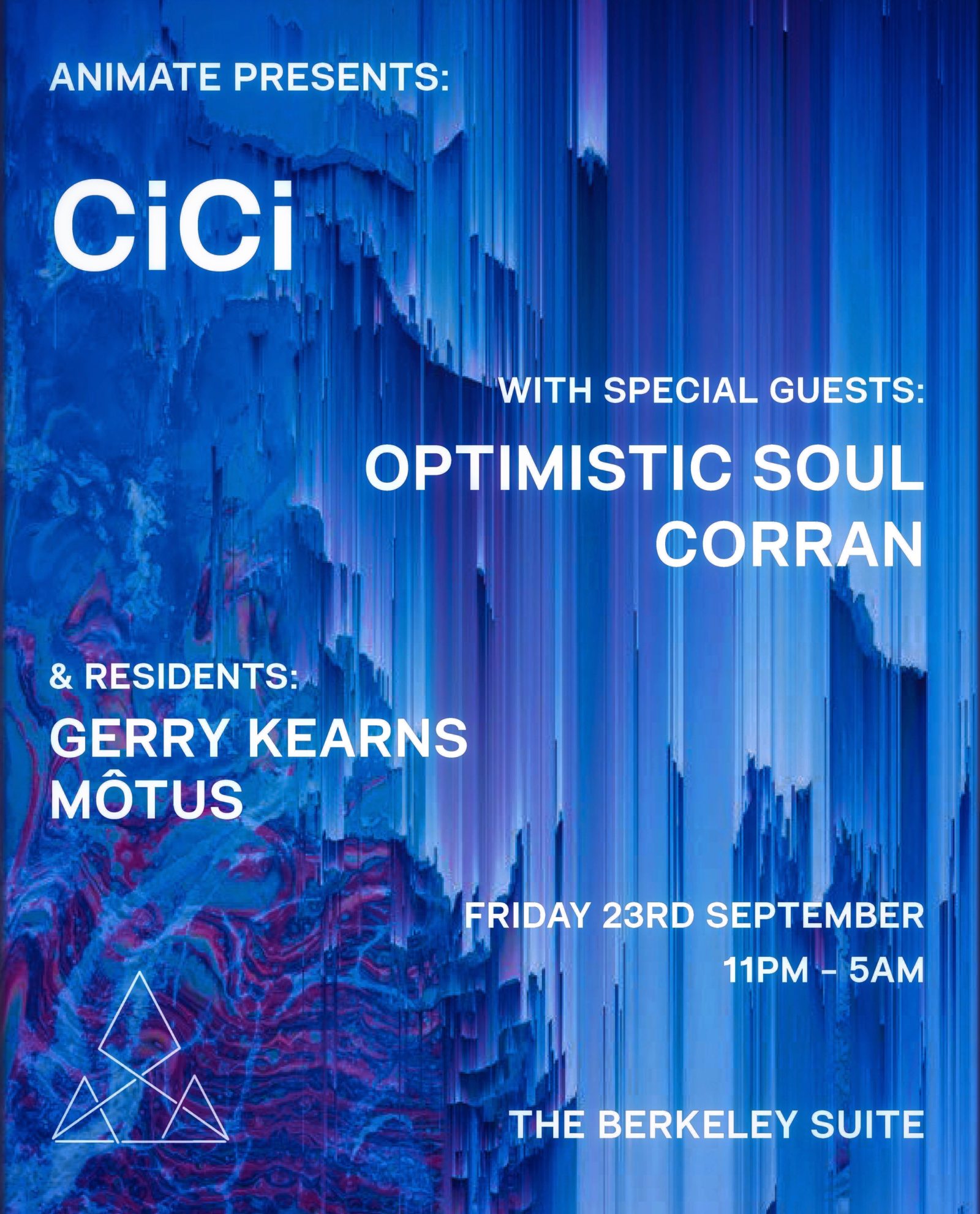 Animate and The Berkeley Suite proudly team up to bring the excellent CiCi to the beltin' basement!

With a fantastic catalogue of productions and a monster touring schedule we are excited to host her at the venue. Support comes from 2 of Scotland's most fantastic talents, Optimistic Soul & Corran who will be joining the Animate residents Gerry Kearns and Motus to kickstart proceedings.

Cici has always been an artistic soul, a self-confessed electronic/psychedelic producer, DJ and creator of crystals and cosmic energy. An artistic soul with a rebellious spirit, Irish born DJ and producer, Cici, is here to vibrate magic.

Growing up in Dublin, Cici studied fine arts and dance and explored a deep love for minerals and crystals. Musically she absorbed artists ranging from Bjork to The Smashing Pumpkins and Nine Inch Nails. At 11 she bought her first albums Nirvana ('Nevermind') and Daft Punk ('Homework'), the latter opened the doorways to the world of electronic music. That passion for music has always been there. After promoting her own parties in Dublin, Cici began DJing in 2009. Fast forward to now, and Cici spends her time between Ibiza and London. In Ibiza she regularly plays the infamous Pikes for Cosmic Pineapple, alongside Josh Wink and Ida Engberg and Pete Tong amongst more. In London she has played room one and two at London's infamous fabric – a lifelong dream realised, –and has also played in Berlin, India (playing her first Mixmag Lab), Toronto and Iceland - playing alongside Italo Johnson, Mr G, Mr C and Luciano. "I love to play a more intimate room with wild energy - where you can feel and connect closer with everyone in the space." 2021 saw her return to DJ-ing with a huge impact after her first release as she joins the Boiler Room crew for their London festival, plus plays across the UK alongside Nina Kraviz, Mall Grab and Carl Cox at parties in The Cause, The Warehouse Project and Printworks. And in 2022, she is not only a key player at Circo Loco on Mondays at DC10, she also played at clubs and festivals including Koko with Sven, Glitch Festival in Malta with Ben Klock and Nina and her biggest London look to date at Field Day with The Chemical Brothers and Kraftwerk. She also returned to Mixmag's Lab in London at the end of June. In a word: busy.