ATTENTION PLEASE X MINDSET
FREE n4 12/£3 after
11pm - 3am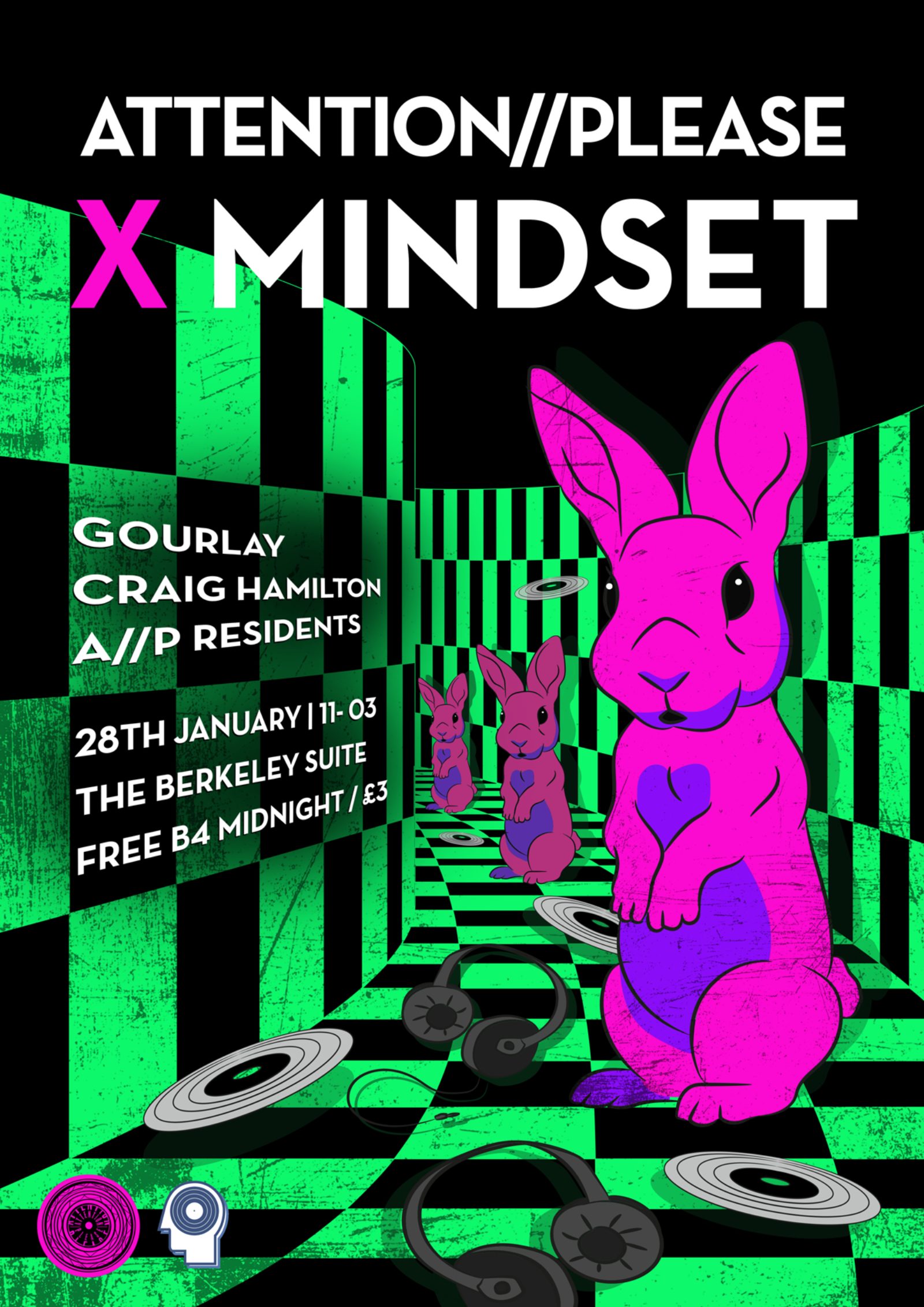 Attention//Please x Mindset 

▀▀▀▀▀▀▀▀▀▀▀▀▀▀▀▀▀▀▀▀▀▀▀▀▀▀▀▀▀▀▀▀▀▀▀▀▀

💥 Gourlay
💥 Craig Hamilton
💥 A//P Residents
💥 The Berkeley Suite
💥 28th January 
💥 Free before midnight/£3 after

We're not hitting the breaks in 2018 - in fact we're putting our foot right down through the accelerator onto the road beneath. It was a mental bastart of a 2017 thanks to each and every one of yous. 
First up, we pop one under our tongues and barrel straight back down the Berkeley rabbit hole with the next of our local talent series. It is with great pleasure that we welcome the La Chateeh powerhouse that is Mindset Glasgow to come blow your heed off...
Residents Gourlay and Craig Hamiton have honed their craft during their residency at one of the finest Glasgow establishments going; La Cheetah. Known for an exceptional music taste and a record bag so deep you'll find Davey Jones at the bottom of it, the pair move a dancefloor in ways you didn't think you could. Being no strangers to North Street, as well as multiple venues around the city, we're thrilled to be able to share a booth with people who are completely dedicated to the art of hunting for diamond records. Although focusing on bringing the best local talent into the spotlight, the team have hosted carefully selected bookings like Dana Ruh, Tijn and Maksy, all of whom embody the ethic of high quality, original dance music Mindset represent. 
The full A//P fam will be setting the tone for the evening during their first outing of 2018. We're gassed to have a few things on the horizon with this class group of folk who love what they do.
It's free before midnight as always with our local nights. Start 2018 how you ended it – sweat dripping and chops swinging to the best our city has to offer.
Mindset: https://soundcloud.com/mindsetglasgow
Attention//Please: https://soundcloud.com/user-731831938 
▀▀▀▀▀▀▀▀▀▀▀▀▀▀▀▀▀▀▀▀▀▀▀▀▀▀▀▀▀▀▀▀▀▀▀▀▀
Free b4 midnight/£3 after.
18+ only, ID required upon entry. Doors 11PM - 3AM
Artwork by the extraordinary Moona Paldanius