HANG TOUGH X DRIFT : FACTA & K-LONE (LIVE / DJ SET)
FACTA & K-LONE
WHEELMAN
XIVRO
J WAX
GK MACHINE
PALIDRONE
PIGEON STEVE
£7 LIVE SHOW ENTRY // £10 / £12 / COMBINED ENTRY - £15
7pm - 4am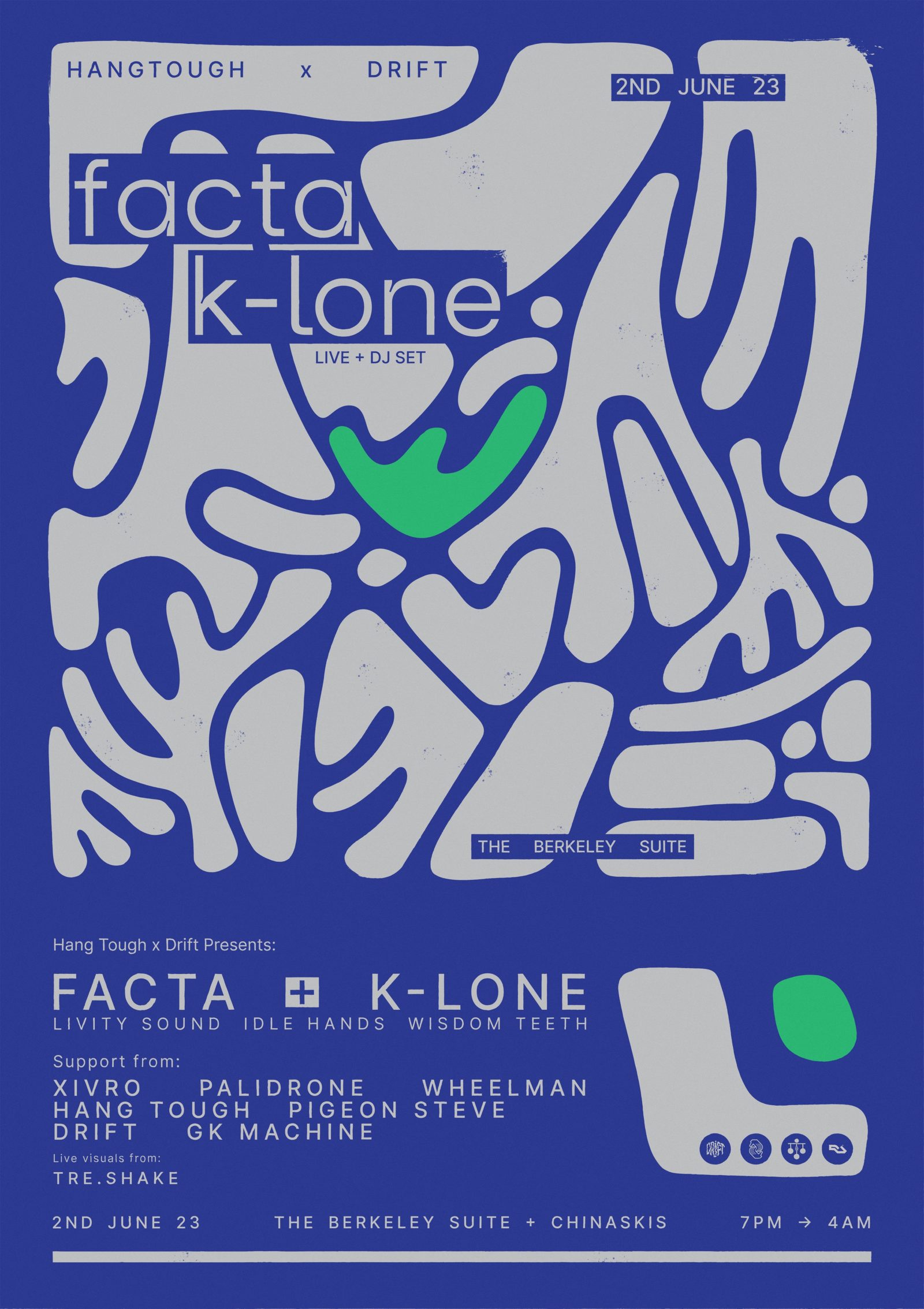 It's almost a year to the day of throwing parties at the Berkeley suite, so we thought we'd link up with DRIFT and celebrate with a large one.

We're incredibly excited to welcome two of our favourite producers, DJ's and label heads in Facta & K-Lone. The minds behind Wisdom Teeth will be performing live in a special pre-club event running from 7-10:30.

Expect dreamy visuals, mood lighting and an exclusive first listen to the pair's brand new liveset with support from Invisible Inc. label head; GK Machine, and EH-FM/Club Silkie legend Xivro.

Afterwards, FACTA & K-LONE WILL BE HEADLINING THE CLUB, DJing b2b and bringing music from all across the spectrum of UK club culture. Hang Tough and DRIFT residents will be warming the club from 11-1 before the duo hop on and take us on a special journey through sound.
Meanwhile in Chinaskis, we've got Sneaky Pete's residents Palidrone, local hero Pigeon Steve and our friend & label family wheelman soundtracking drinks in the beer garden from 7 through till 12.

Any profits will be donated to Keep Scotland Beautiful - an environmental charity who work to combat climate change and preserve Scotland's stunning countryside.

Out to the BDB crew each and every time.

Much Love, HT & Drift.

Limited early bird tickets available now!!!