(RAVE 'TIL YOU) DROP
TRSSX
POOG1RL
H3L3NA
DJ HZ
SKR.A.P
£5 ADVANCE
11pm - 4am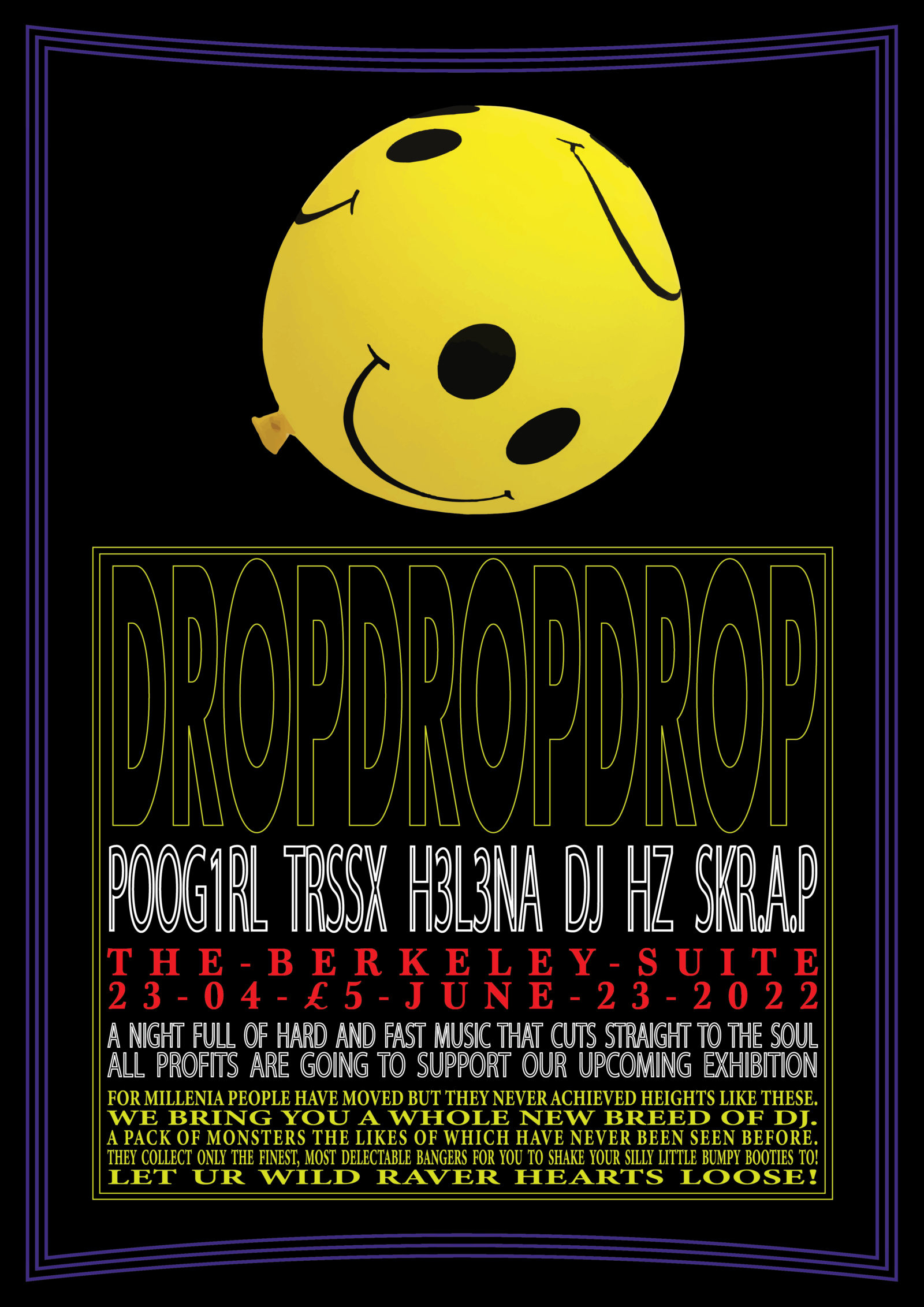 Hi there raver! >:-) Let's start off on the wrong foot. For millennia people have danced, but never achieved heights like these.

We bring you a whole new breed of DJ, monsters the likes of which have never been seen before.

They collect only the finest, most delectable bangers for you to shake your silly little bumpy booties to. Let your wild raver hearts loose and rest assured that all jaws will DROP. TRSSX from Glasgow/Krakow label Wodawater who hosts one of Glasgow's only European-style techno nights, Fundamentals.

There is hardly any DJ in Glasgow more professional and so it is with honor that we welcome him on board for DROP.

POOG1RL, who most will know from the incredible nights hosted by her collective The Feeling's Mutual, will provide her usual assault on the senses with rapid fire donks. Her energy behind the decks is unrivalled and we cannot wait to see what she has dug up from the backlog.

H3L3NA, who recently launched GUTS, a new club night that's sure to blow your socks off, will join us with a range of techno to hardcore. Nothing is out of her range and you can rest easy knowing that the bass provided will rumble on in your tummies for days.

DJ HZ (AKA Noise HZ AKA Dexter/Lucia "Skrotcentralen" Smellor) is a silly little creature from the depths of who knows where. Their traditionally intense night Queer Punk Night makes them a perfect fit for the roster. They'll bring the poppers.

SKR.A.P might not be a household name yet, but that's not going to be the case for long. They have received several compliments from their close friends about their DJ-ing skills and that certainly put a smile on their face. Not only that, but it's given them the confidence to go in with FULL FORCE for this debut performance. Who knows, if you ask nicely maybe they'll play something just for you. Cannot wait to see you all there. It's going to be a night you won't forget… literally though, the tunes that'll get played will ring in your ears for months ahead, so best bring earplugs.