SEDEF ADASI 5AM BANK HOLIDAY PARTY!
SEDEF ADASI
BONZAI BONNER B2B BLAIRO
£10 ADVANCE
11pm - 5am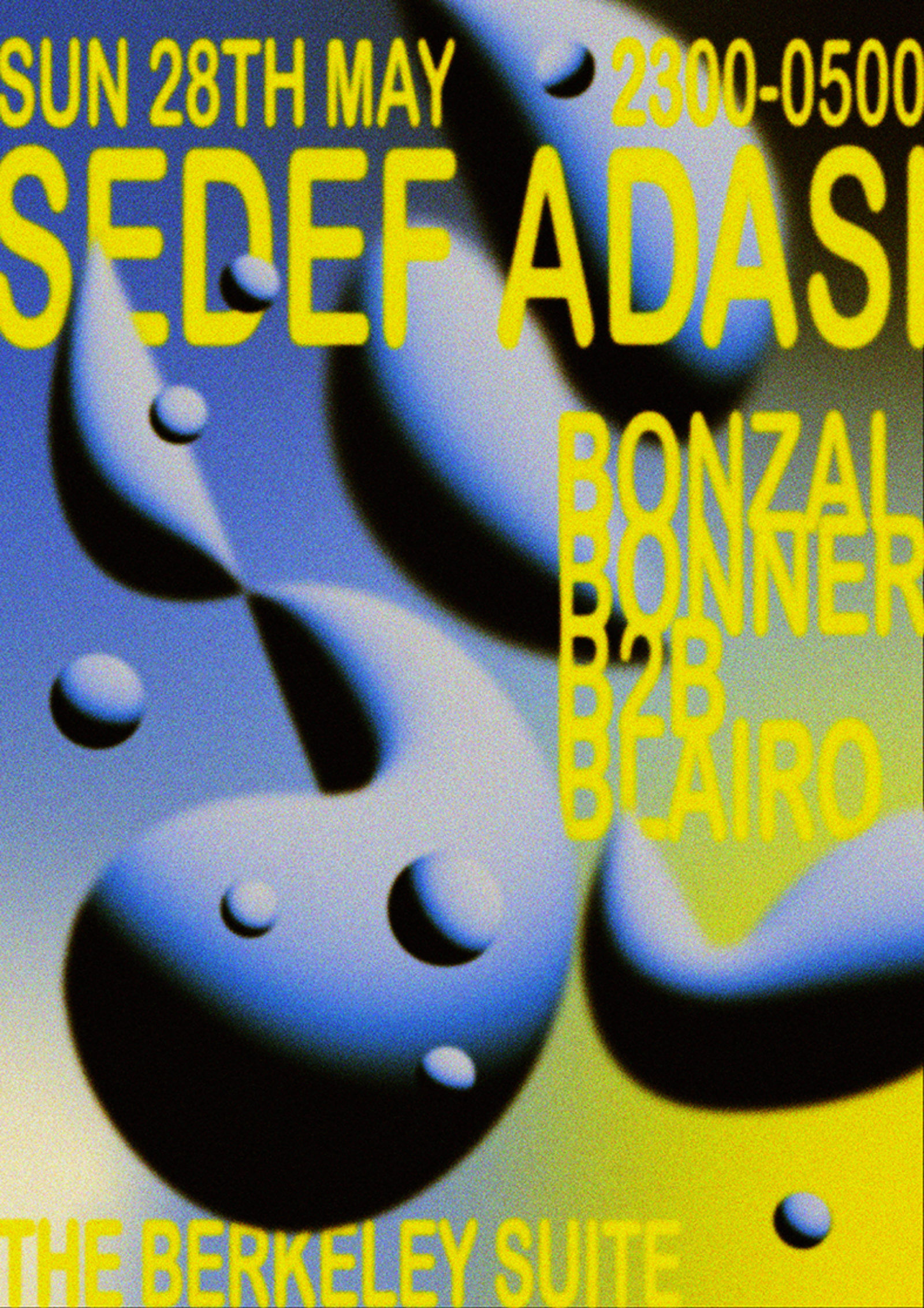 We welcome Berghain / Panorama Bar and BLITZ Music Club resident also known as the electronic aficionado Sedef Adasi to the city for her SCOTTISH DEBUT!
£10 ADVANCE >> https://ra.co/events/1706305

DJ, pro­duc­er and HAMAM Nights host, Sedef Adasi has built her rep­u­ta­tion not only on being one of Ger­many's best selec­tors in elec­tron­ic club music, but also on stay­ing true to build­ing and fos­ter­ing local com­mu­ni­ties. One of Augs­burg's 300k cit­i­zens, the daugh­ter to Turk­ish-Alban­ian par­ents has long pri­ori­tised the con­cept of stay­ing true to ones home.
Her­self, stick­ing to her South Ger­man home town in favour of migrat­ing to the big city.

Since HAMAM Nights launched in 2017, Sedef Adasi has host­ed a range of respect­ed nightlife pro­fes­sion­als to City Club, Augs­burg. While this a gave her a space to sup­port region­al struc­tures, she pro­ceed­ed to tour the HAMAM mind­set of inclu­siv­i­ty and hos­pi­tal­i­ty around the globe. While inter­cul­tur­al­i­ty, diver­si­ty and region­al­i­ty are key fac­tors in Sede­f's prac­tice, con­ti­nu­ity is anoth­er idea that she's applied both to her­self as well as her artis­tic bonds. Besides City Club, she holds a long­stand­ing res­i­den­cy at Munich's BLITZ club, and she's now a res­i­dent at Berlin's Panora­ma Bar.

Joining on the line-up for a very special B2B is Bonzai Bonner & BLAIRO!