SHOOT YOUR SHOT - CORMAC
CORMAC
BONZAI BONNER
£6.66 EARLY BIRD // £10 ADVANCE
11pm - 4am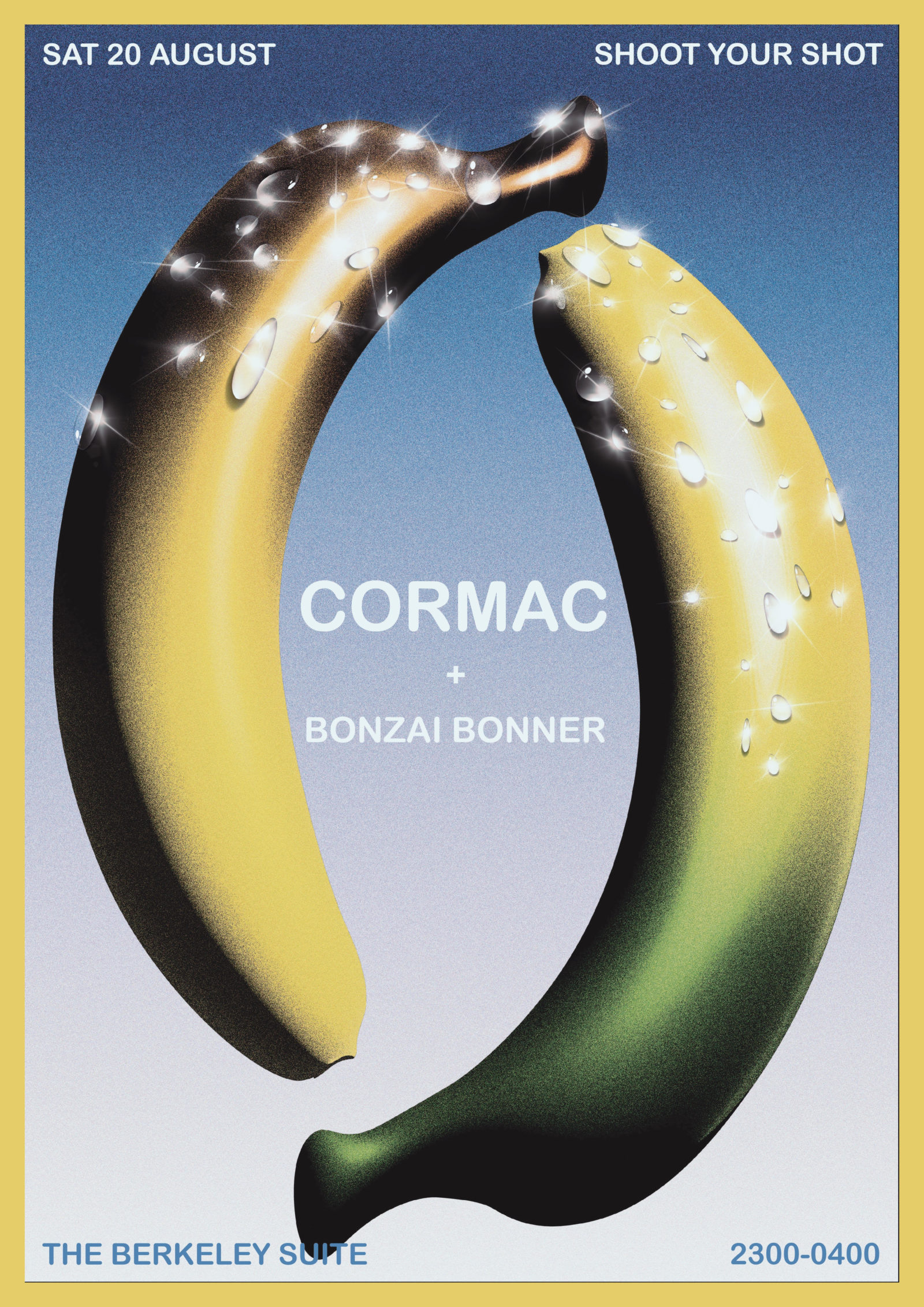 WE'RE HERE, WE'RE QUEER and we proudly present a lovely friend of ours, CORMAC!!
No longer one of dance musics' best-kept secrets Cormac's reputation as a revered selector has rapidly spread. The Queer Northern Ireland-born DJ is now soundtracking dancefloors the world over with his unique take on HI-NRG Italo- House.
Cormac was a listener and dancefloor staple at zeitgeist defining London institutions such as Trade, Nag Nag Nag, and Bugged Out.
In Berlin and Europe, he's best known for his legendary closing performances at Panorama Bar and Snax. Sometimes running up to eleven hours in length, and with free reign to play across the board sonically, Cormac has fast become a staple on the line-ups for the club. As the light pours in on Monday mornings, the crowd are kept moving with a selection of his extensive 20 years of DJ knowledge.
Currently, he releases on Ostgut-Ton, Correspondent Records, and his own imprint Polari Records. Polari Records is named in reference to the secret old-school gay slang once used in Europe. The label showcases new and established producers with each release featuring collectible artwork from LGBTQ+ artists.
Cormac's most recent mix is BBC Radio 1 Essential mix which featured exclusive non-released material from Gerd Janson, Kink, Kiwi, Volta, Alan Dixon, and Jordan Nocturne, alongside the debut of Cormacs solo outing On Polari, "Heartcore" .
As one half of "Comets", 2021 also saw his release on the revered Berghain associated label, Ostgut-Ton. "Sparks" an homage to Cowley and Bobby O was released February 2022 on Polari Records.
Supporting is Shoot Your Shot founder, BONZAI BONNER...
"A DJ who has become a bit of a local legend amidst the underbelly of Glasgow's dance and electronic music community. For many years Bonzai Bonner has worked tirelessly to champion the sound of High NRG and Italo in Glasgow via the spectacularly successful party series Shoot Your Shot. The party has become a widely loved event and has brought a breath of fresh air and fun to the occasionally overly techno focussed stronghold.
Their approach to dance music is energetic, fluid and dynamic and you never know quite what your gonna' get from one of their sets. They are often rave focussed and euphoric yet draw upon influences of new wave, disco and beyond. A pivotal figure within the LGBTQ+ community, Bonzai Bonner is a proper champion..." - Ransom Note
**** PLEASE READ ****
Y'want a braw night? Of course you do! That's why SYS and The Berkeley Suite wants everyone tae have a stoatin' time wi' us.
We will not tolerate abuse of any kind, whether it's towards members of staff, customers, performers or promoters. Gender neutral toilets will be available and a zero tolerance policy for harassment and discrimination. We aim to create an inclusive environment where freedom of expression is held to paramount importance.
If you don't know someone's pronouns, ask. Never assume you know or that pronouns can't change. All genders are to be acknowledged and celebrated, including our beloved non-binary friends. There will be no tolerance of racism, transphobia, homophobia, sexism, body shaming, ableism, Islamophobia, ageism, antisemitism, or anything less than total positivity towards sex workers.
All are encouraged to party safely and with intention. Take care of your friends. Support responsibility rather than encourage excess. Set limits on what you want to consume before the party. Don't be ashamed to ask for help getting home, venue staff will happily help you get in a taxi. Look out for each other and we look forward to seeing you.
///// NO CAMERA POLICY /////
The decision has been made to have a NO CAMERA policy for the party - everyone who joins us will have stickers placed on their phone's camera lens by our staff. This is to further encourage the true spirit of the party - a celebration of pure love.
Please respect their decision for choosing this for the upcoming six hour party. If you are caught taking a picture, you risk being ejected and will not be invited back into our events